The Extraordinary Form: A Treasure for the Entire Church
Letter 61
The French translation of Cardinal Raymond Leo Burke's book

Divine Love Made Flesh

is coming out this autumn. That edition will include a previously unpublished interview between the cardinal patron of the Sovereign Military Order of Malta and Father Claude Barthe, chaplain for the pilgrimage of the Summorum Ponctificum people in Rome. As a way of celebrating the eighth anniversary of the promulgation of Benedict XVI's Motu Proprio Sumorum Pontificum, we here present an exclusive selection of excerpts from this interview by kind permission of the publisher, Via Romana.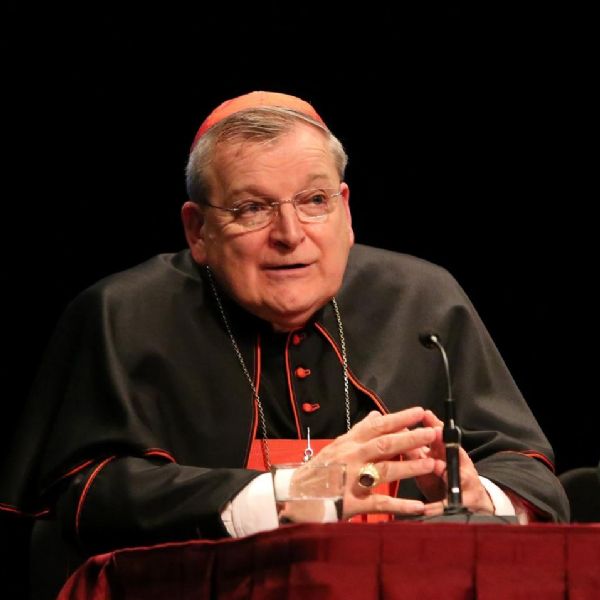 (Photo Sacra Liturgia 2015)




Fr. Claude Barthe:

Your Eminence, July 7, 2015 is the anniversary of the Motu Proprio Summorum Pontificum. Would it be an exaggeration to say that this text is particularly representative of Benedict XVI's pontificate?



Cardinal Raymond Leo Burke:

Yes, I would say that in a certain sense it is the highest expression of Cardinal Ratzinger's (now Benedict XVI) thinking. It shows what his understanding of Vatican II has been. Indeed, after the second Vatican ecumenical council (though certainly not because of the council's teaching itself), there were unfortunately a great many abuses, especially in the celebration of the sacred liturgy. In the Apostolic Letter Summorum Pontificum one can see how the pope found a juridical form establishing an organic link between the new and the old, that is, between the ordinary form and the extraordinary form.




CB:

This text came after fifty years of liturgical crisis—the very crisis you spoke of in your talk at the Summorum Pontificum conference in Rome on 13 June 2015, "A Treasure for the Entire Church." There you said that already by 1970 "the horse had bolted." Did the Motu Proprio open up a way out of this crisis?



Card. Burke:

Yes, to be sure, Benedict took the entire liturgical crisis pretty hard, as he recounts in his autobiography (Milestones, trans. Erasmo Leiva-Merikakis [San Francisco: Ignatius Press, 1998]). In the letter to the bishops that accompanied the Motu Proprio, he gave a summary of his experience: "[I]n many places celebrations were not faithful to the prescriptions of the new Missal, but the latter actually was understood as authorizing or even requiring creativity, which frequently led to deformations of the liturgy which were hard to bear. I am speaking from experience, since I too lived through that period with all its hopes and its confusion." And I believe that by allowing for the rediscovery of the sacred liturgy that had existed for a millennium and a half in the Roman Church, Pope Benedict XVI made it possible to start rectifying abuses and also to provide a reference point for the necessary enrichment of the ordinary form.
[…]




CB:

By way of enrichment, Cardinal Cañizares, Prefect of the Congregation for Divine Worship, had presented to Pope Benedict XVI proposals for the use ad libitum of the older offertory prayers in the ordinary form as well as for greater restrictions on concelebration. What do you think?



Card. Burke:

I don't know whether Cardinal Cañizares made any such proposals but I do fully agree with the idea of taking over prayers like those that are preserved in the offertory of the extraordinary form, since they are deeply expressive of the great sacrificial mystery being celebrated. Everything in the Mass must draw attention to the divine action that is being accomplished on the altar, and that is precisely what these prayers do. Cardinal Sarah, prefect of Divine Worship, in an important article he gave to the Osservatore Romano on 12 June, wrote that it would be desirable to insert the penitential rite (by which he means the "prayers at the foot of the altar") and the offertory of the usus antiquior in an appendix to a future edition of the Missal. Regarding the prayers at the foot of the altar, the Psalm there, Ps 42 of the Vulgate ("And I will go in to the altar of God: to God who giveth joy to my youth"), was that sung by the priests before entering the Temple of Jerusalem, facing the altar; it is therefore a beautiful expression of the unity of worship "in spirit and in truth" (Jn 4:23) of the New Covenant and the worship of the Old Covenant, the new worship fulfilling and perfecting the old one.
[…]




CB:

So Benedict XVI, when he restored the Mass in its traditional state, that of John XXIII's 1962 missal, to its rightful place, wanted to provide a reference point to the entire Church.



Card. Burke:

Yes, we ought to see this extraordinary form as a treasure preserved by the Roman Church for centuries. That rite is substantially identical to that of St. Gregory the Great.




CB:

. . . and it is particularly well adapted to the Church's activity today. You often insist on applying the saying lex orandi lex credendi to the New Evangelization, or re-evangelization.



Card. Burke:

The lex orandi is always closely linked to the lex credendi. As man prays, whether he does so well or not well, so does he believe, well or not well, and so does he behave, well or not well. The sacred liturgy is absolutely the first act of the New Evangelization. Unless we worship God in spirit and in truth, unless we celebrate the liturgy with the greatest faith possible, especially in the divine action taking place during the Mass, we cannot receive the necessary inspiration and grace to take part in evangelization. The holy liturgy contains a summary of the form of evangelization to the extent that it is a direct encounter with the mystery of faith that we must bring to those souls God leads us to. In itself, the liturgy can also lead to the knowledge of the mysteries of faith. Now, if the liturgy is celebrated in an anthropocentric manner, if it is merely a social activity, it will have no lasting impact on spiritual life. One of the means of bringing men to the faith is to restore the dignity of the liturgy. A reverently celebrated Mass has always attracted men to the mystery of the Redemption. That is why I believe that celebrating the Mass in the extraordinary form can play a very important role in the New Evangelization because of the emphasis it puts on the transcendence of the holy liturgy. It underscores the reality of the union of heaven and earth that is expressed in the holy liturgy. In the extraordinary form Christ's action is quite evident through the sacramental signs and through the priests who are His instruments. Furthermore, it also helps us to be more respectful in the celebration of the ordinary form. Everyone sees the need for this evangelization in a world that lives today as though God did not exist. It is important to connect this New Evangelization with the best possible celebration of the liturgy. I've met many atheists or non-Christians and I have seen them feel that they were witnessing God's work as they discovered the Mass in the extraordinary form. Later on this experience allowed them to receive religious instruction. People have to understand that the priest is acting in the person of Christ. They have to understand that it is Christ Himself who comes down onto the altar to renew the sacrifice of the Cross. They have to understand that they must unite their own hearts with His pierced Heart for them to be purified and to increase in them the love of God and of neighbor. We therefore have to catechize men in the profound realities of the Mass, particularly by means of the extraordinary form of the Roman rite.




CB:

Regarding the relationship there is between doctrine and liturgy: it is often noted that seminarians who are attracted to the extraordinary form also wish to have a truly structured theological formation. It also must be said that the traditional form attracts many seminarians in France.



Card. Burke:

Well, in Germany too, and in the USA, and in Italy. They used to claim that the Italians were not drawn to the traditional liturgy: that's absolutely not true. As for seminarians, when I was archbishop of Saint Louis, at the time that Benedict XVI promulgated Summorum Pontificum I immediately asked that all the seminarians should be instructed in the extraordinary form, its rite, its spirituality, and that it be celebrated once a week at the seminary. I also asked that seminarians with an aptitude for learning Latin should be formed to celebrate the extraordinary form. All these regulations were well received and produced good fruit in the diocese, I think.




CB:

. . . because the young like this Mass.



Card. Burke:

Yes, Pope Benedict told the bishops that one might have expected that demand for the old Mass concerned the older generation, but that it was clearly apparent that young persons were discovering this liturgical form, felt an attraction to it, and found in it a form of encounter with the mystery of the Eucharist that suited them perfectly. Whenever I celebrate the traditional Mass myself I see many beautiful and young families with many children in attendance. I don't believe that these families don't have any problems, but they clearly feel strengthened to confront them. I've always been struck by the number of youth attracted to the extraordinary form of the Mass. And this is not because the extraordinary form is more valid than the ordinary form. They are attracted to it because it is richly articulated and focusses attention on what is happening at the altar.

-------



IN 2016, THE PEOPLE OF SUMMORUM PONTIFICUM IN ROME WITH ARCHBISHOP SAMPLE



Since the See of Peter will attract even more pilgrims than usual during the Holy Year, the Coetus Internationalis Summorum Pontificum has already settled the dates of its 2016 pilgrimage, in order to help the faithful from overseas make reservations ahead of time for lodgings in Rome. As usual, the pilgrimage will take place on the weekend of the Feast of Christ the King, i.e. from Thursday, October 27 to Sunday October 30, 2016. On the Feast of Corpus Christi 2015, the CISP announced that Archbishop Alexander K. Sample of Portland, Oregon, has accepted to guide the pilgrims throughout this pilgrimage, and will cross the threshold of the Holy Door with them.



Information: cisp[at]mail.com