22-25 OCTOBER 2015, ROME: PRAYING FOR THE FAMILY WITH THE PEOPLE OF SUMMORUM PONTIFICUM
Letter 59
Late this October the People of Summorum Pontificum will come together for its fourth consecutive yearly pilgrimage to Rome. It's turning into a kind of institution: over the course of three days the traditional liturgy takes the stage in Rome, particularly at the Vatican Basilica. Priests and laity from the world over join to pray

ad limina apostolorum

, on the "threshold" of the Apostles. This year the pilgrimage will coincide with the closing of the ordinary assembly of the Synod on the Family. Part of the pilgrimage's program has been made public: we've had the joy of finding out that

Dom Jean Pateau, Abbot of Fontgombault, will celebrate the last Mass of the pilgrimage on Sunday 25 October, feast of Christ the King

.

In order to find out a little more about the program and the practical details of the pilgrimage, Paix liturgique interviewed Giuseppe Capoccia, its delegate general.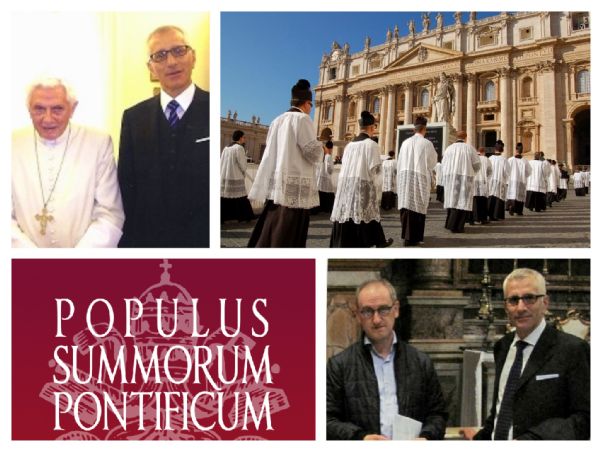 1) Giuseppe Capoccia, how is this fourth edition looking?
GC: The context is a little different this year since the pilgrimage is taking place right when the Synod for the family comes to a close. As a result, it's already difficult to find lodgings in any religious house in central Rome. I encourage all the pilgrims, especially priests, to reserve rooms as soon as possible. The Synod also means that no head of dicastery is available for any of the pilgrimage celebrations; that's why an Italian diocesan archbishop will celebrate Mass in Saint Peter's Basilica on Saturday, 24 October, after the solemn procession that Dom Pateau will lead through the streets of Rome.

2) So the pilgrims will be able to pray for the Synod?
GC: Yes, or more precisely, for the Synod Fathers. Already last year during the Rosary at Sant'Agostino we had lifted up our prayers to Our Lady of the Parturition, asking her to give the Church "her wisdom and her maternal attention so that the divine institution of the family might always find an unyielding defender and advocate in her in these times of confusion in which she is often ridiculed and turned into derision." This year we shall once again pray that the Church may place what Pope Saint John Paul II called our "little domestic churches" (

Familiaris Consortio

51) under the protection and guidance of the Holy Family of Nazareth, the model of family life, education, and sanctification.

3) Is there anything new in the program, compared to years past?
GC: The basic outline of the program is unchanged. We'll start out with Vespers followed by Benediction of the Blessed Sacrament Thursday evening at Santissima Trinità dei Pellegrini; the singing will be provided by the Schola Sainte-Cécile. On Friday 23 October, we'll have the Rosary in the morning, the Way of the Cross in the afternoon, and we'll celebrate Saint Antoine-Marie Claret in the evening with a Pontifical Mass said by Archbishop Pozzo, Secretary of the Ecclesia Dei Commission. Though the venues of these different events have yet to be announced, I can already tell you that the priests' meeting will bring the priest and seminarian pilgrims to the Angelicum (the Pontifical University of St. Thomas Aquinas) where Fr. Serge-Thomas Bonino, the dean of the School of Philosophy, will greet them. On Saturday we shall once again be hosted by Don Ivan, pastor of San Lorenzo in Damaso, for the Eucharistic adoration preceding our solemn procession through the historic center of Rome to Saint Peter's Basilica. Dom Pateau is giving us the honor of presiding over this beautiful procession to Saint Peter's tomb. The Mass at Saint Peter's will be at noon, as it was last year. On Sunday, we'll celebrate Christ the King at eleven, once again at Santa Trinità dei Pellegrini, with Dom Pateau and an English choir conducted by Matthew Schellhorn, a young and talented musician who has just founded a sacred music competition with the backing of the Latin Mass Society.

4) May we know who will celebrate at Saint Peter's?
GC: No, not yet. An Italian diocesan archbishop has agreed to do so, but he may also be appointed by his peers or by the Holy Father to participate in the Synod. Once the Conference of Italian bishops has designated its representatives, which should take place sometime in the next weeks, we should be able to tell you more on that score.

5) Last year you had organized your pilgrimage in conjunction with Juventutem, which at the time was celebrating its tenth anniversary. Will there be any other forms of cooperation this year?
GC: Cooperation with Juventutem was a great benefit for all concerned. They were able to integrate new groups like Slovenia and Hungary and to establish new goals while we were able, along with them, to have the privilege of being received by Pope Emeritus Benedict XVI, who then gratified the pilgrims with a warm, fatherly message.

This year, the International Federation Una Voce (FIUV) chose to hold its biennial General Assembly during the pilgrimage

. In fact, it's thanks to the FIUV that we'll be able to have Matthew Schellhorn and his choir alongside the Schola Sainte-Cécile. Also, another international initiative having to do with the Synod on the Family may be launched—we'll have further opportunities to discuss that.

6) If I'm not mistaken, you've already begun planning for your 2016 pilgrimage?
GC: Yes, as soon as we heard that Pope Francis had decreed the Holy Year of Mercy for 2016, we went to work because once again those will be exceptional circumstances that will attract many pilgrims (and tourists!) to Rome. Consequently, we're already in contact with an Archbishop from the West Coast of the United States to coordinate his Holy Year trip to Rome with our pilgrimage. In fact

I invite the readers of Paix liturgique and the English-speaking pilgrims to pencil the dates of the 2016 edition in their datebooks already, as the pilgrimage will take place from the 27th to the 30th of October that year

.

7) Any last words ?
GC: Yes. I just want to repeat

the three goals of our pilgrimage: to give thanks

for the gift that is the Motu Proprio

Summorum Pontificum

;

to express our fidelity

to Peter and our willingness to take the road and work for re-evangelization; and lastly

to bear witness

to the eternal youth and inexhaustible riches of the traditional liturgy, which allows for a better understanding of the gift of His person that Christ gives us through the mystery of His sacrifice perpetually renewed on our altars.

> Website of the pilgrimage