October 2013: THE PEOPLE OF SUMMORUM PONTIFICUM BACK IN ROME FOR THE CLOSING CEREMONIES OF THE YEAR OF FAITH
Letter 36

Much as the very great majority of Catholics, we did not know Cardinal Bergoglio before he emerged on the balcony of Saint Peter's as our new Supreme Pontiff on March 13. We therefore harbor neither enthusiasm nor concern regarding Pope Francis--merely a great desire to get acquainted with him. To be sure, we know that as archbishop of Buenos Aires he had both promptly permitted the celebration of the extraordinary form of the Roman rite the day after Summorum Pontificum, and also seen to it that its celebration remain as circumscribed as possible. All in all, the average bishop's attitude, alas. . . .

In a word, these past eight days we have been closely following his first gestures and attentively listening to his first words. All the while and above all, we have endeavored not to fall for the media's distortions, which assail each of his utterances. Although some of his gestures have been startling--the absence of a blessing during his audience with the press "to respect everyone's conscience" to begin with--others have been welcome, such as the prayers to the Virgin, to Saint Ignatius, and to Saint Pius V during the visit to Saint Mary Major. As far as words are concerned, they have not had the doctrinal richness of Benedict the XVI's, certainly, yet they have the simplicity and clarity of an effective catechesis: salvation through the Cross (March 14 homily); the Church, Mystical Body of Christ (to the cardinals, March 15); Communicating Truth, Goodness, and Beauty (to the media, March 16); Respect for Creation (March 16 and March 19 during his pontificate's inaugural Mass); The Almighty Power of Divine Mercy (March 17 Angelus).

And regarding what concerns us more specifically, namely full liturgical reconciliation in the Church, we are inclined to see an encouraging sign in the announcement of a new People of Summorum Pontificum pilgrimage in Rome, October 24-27.

Here is the Cœtus Internationalis Summorum Pontificum (CISP) communiqué, dated Monday March 18, followed by a few comments.


I - THE CISP COMMUNIQUÉ

The Cœtus Internationalis Summorum Pontificum (CISP) gladly announces that it will end the Year of Faith just as it had begun it: with a pilgrimage Ad Petri Sedem (to the See of Peter).

Following the 2012 pilgrimage's spiritual success, the people of Summorum Pontificum are once again meeting in Rome to bear witness to the traditional liturgy's eternal youth at the Apostle's Tomb. The CISP thus means to contribute to the harmony and building up of the universal Church, while remaining docile to the action of the Holy Ghost.

In order to respond to the encouragement to "seguir adelante" (keep forging ahead) on the part of Cardinal Cañizares Llovera, Prefect of the Congregation for Divine Worship, at the end of the November pilgrimage, the CISP early in 2013 had asked St. Peter's Basilica's archpriest, Cardinal Angelo Comastri, for access to the Basilica. This March 14, Cardinal Comastri confirmed the Basilica's availability on 26 October next at 11am for the solemn celebration, which will be the high point of the pilgrimage.

The Cœtus Internationalis Summorum Pontificum thanks Cardinal Comastri for his hospitality and invites all groups linked to the extraordinary form of the Roman rite to start already preparing themselves for this pilgrimage through prayer and to take an active part in organizing it.

***

The Cœtus Internationalis Summorum Pontificum, which was established last July, is the organizer of the People of Summorum Pontificum pilgrimage in Rome --diocesan priests and priests from ED communities, seminarians, religious, and the faithful attached to the traditional liturgy. This year the steering committee is made up of: Giuseppe Capoccia, managing director; Guillaume Ferluc, secretary-general; Abbé Claude Barthe, chaplain. Giuseppe Capoccia, Italian senior civil servant, succeeds as councilor to Riccardo Turrini who was named Judged at the Court of Appeals of the Vatican City State on December 31, 2012.

Contact : cisp[at]mail.com
http://unacumpapanostro.com/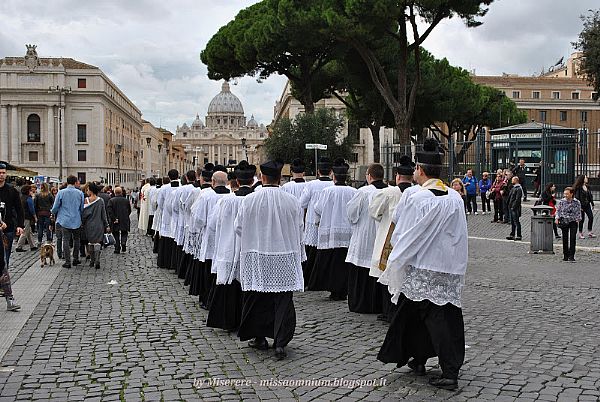 II - THE COMMENTS OF PAIX LITURGIQUE

1)  The date of Cardinal Comastri's response--he is the archpriest of the Vatican Basilica--on the first day of Pope Francis's pontificate is not insignificant: it means that, thanks to earlier celebrations since 2009 and to the excellent impression made by the 2012 pilgrimage, the traditional liturgy is no longer disputed at Saint Peter's. It amounts to a response to all those who proclaim that Benedict XVI's Motu Proprio is no longer in force. No offense to those who wish to see it revoked (as well as to those who fear that it may be!): Summorum Pontificum was established as a universal law for the entire Church, and remains as such.

2)  Our Rome correspondent informs us that the October 26 solemn Mass at Saint Peter's will be preceded by a procession in the streets of Rome, which will make it the high point of this pilgrimage, just as it did last year. But he also points out that the pilgrimage itself will not end until Sunday October 27, feast of Christ the King according to the traditional ordo, which is to say during the very solemnity that will be the official closing ceremony of the Year of Faith on November 14, 2013 according to the modern ordo. This obviously is no coincidence: the organizers explain the date by their concern to make the unity of the Church manifest. In their communiqué they declare that they wish to participate in "the harmony and building up of the universal Church, while remaining docile to the action of the Holy Ghost," clearly an allusion to the new Supreme Pontiff's words to the Cardinals on March 15.