CARDINAL BURKE'S HOMILY FOR #sumpont2014
Letter 53







MISSA DE SANCTA MARIA IN SABBATO, SALVE SANCTA PARENS
COETUS INTERNATIONALIS PRO "SUMMORUM PONTIFICUM"
BASILICA SANCTI PETRI IN VATICANO
XXV OCTOBRIS MMXIV


Sir 24, 14-16
Lc 11, 27-28



(His Eminence gave his homily in Italian and in English: exclusively, we offer you all the passages in English)

Praised be Jesus Christ, now and for ever. Amen


You have left your homes and your ordinary activity to come on pilgrimage to an extraordinary place, to the See of Peter, inspiredby gratitude to Our Lord for the most beautiful gift which He gives to us in the Church, that is, the Sacred Liturgy. It is the Successor of Saint Peter who has the responsibility to safeguard and promote this gift for the Lord's flock dispersed throughout the whole world. You thank Our Lord, in particular, for the enduring beauty of the traditional form of the liturgical rites in the Latin Church, for "the richness of the Roman Liturgy" which Pope Benedict XVI, by his Apostolic Letter Summorum Pontificum, given motu proprio on July 7, 2007, has made "more accessible to the Universal Church."1

With the offering of the Pontifical Mass, according to the Extraordinary Form of the Roman Rite, in this magnificent basilica constructed over the tomb of Saint Peter, your pilgrimage has reached its culmination.

Recalling the memory of Saint Peter and imploring his intercession, we celebrate the particular care of souls of his successors, expressed most highly and fully in the safeguard and promotion of the Sacred Liturgy. Thus Pope Benedict XVI, promulgating the Apostolic Letter Summorum Pontificum, reminded us:
The Supreme Pontiffs have to this day shown constant concern that the Church of Christ should offer worthy worship to the Divine Majesty, "for the praise and glory of his name" and "the good of all his holy Church."2

In the same Apostolic Letter, Pope Benedict XVI underlined, in a particular way, the exceptional care of the Sacred Liturgy on the part of Popes Saint Gregory the Great, Saint Pius V, and Saint John Paul II. For our part, we recall today the contribution of Pope Benedict XVI, in continuity with these great Pontiffs, to the safeguarding and promotion of the Sacred Liturgy as the most perfect and most elevated expression of our life in Christ in His holy Church.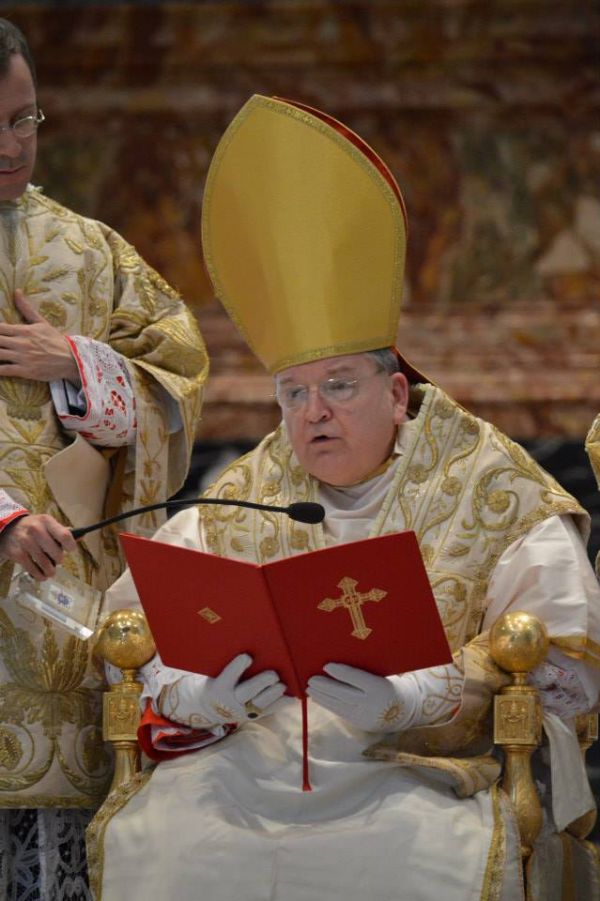 © François Pierre-Louis for the Coetus Internationalis Summorum Pontificum

We celebrate the Votive Mass of the Blessed Virgin Mary on Saturday, conscious that the Mother of God always accompanies us on pilgrimage. With so much maternal love, the Blessed Mother has accompanied us to this holy place to show us the extraordinary nature of our ordinary life because it is lived in Christ through the indwelling of the Holy Spirit in our souls. With motherly love, She has wished to respond to our devotion, leading us to the altogether extraordinary encounter with her divine Son through communion in His Body, Blood, Soul and Divinity. Holy Communion is the true and irreplaceable food of our earthly pilgrimage which brings us to the destination of eternal life in the presence of God – Father, Son, and Holy Spirit –, in communion with the angels and all the saints. In every holy pilgrimage, we discover our profound identity as pilgrims and we anticipate the completion of our earthly pilgrimage at the Wedding Feast of the Lamb3.

Let us now lift up our hearts, one with the Immaculate Heart of Mary, to the glorious pierced Heart of Jesus. United in the Heart of Jesus, let us be one with Him in the Eucharistic Sacrifice that He now offers. Instructed at the School of Mary, our Mother, let us offer, with Christ, the complete gift of our life to God the Father in pure and selfless love. Let us pray that, by means of our pilgrimage today, our Blessed Mother will help us to respond every day anew to the invitation of Jesus to give our hearts always to Him and to arrive, with Him, at our eternal home in Heaven.

Heart of Jesus, house of God and gate of Heaven, have mercy on us.
O Mary Immaculate, Mother of Divine Grace, pray for us.
Saint Peter, Prince of the Apostles, pray for us.

Raymond Leo Card. BURKE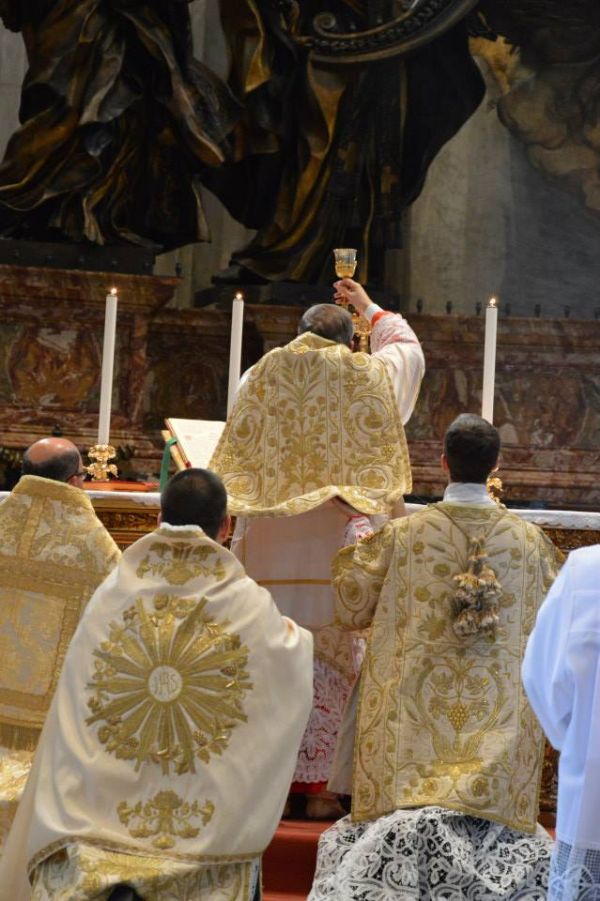 © François Pierre-Louis for the Coetus Internationalis Summorum Pontificum

***


1 > Cf. nota n. 1. English version:
http://www.vatican.va/roman_curia/pontifical_commissions/ecclsdei/documents/rc_com_ecclsdei_doc_20110430_istr-universae-ecclesiae_en.htm